OK, it's not, my name is Cindi (aka Buttercup).  My husband Roger (aka Westley) and I would like to welcome you to our Princess Bride- themed blog about our adventures as full-time RVers.
This is my first blog post so I will write about our beginning as full-time RVers.
Note: This post and all the ones that follow will contain many references to the 1987 movie, The Princess Bride.  If you would like to know why please go to our "About Us" page.  The part that explains the reason for all the Princess Bride references is in the first couple of paragraphs so don't worry, you won't need to read all the blah, blah, blah about who we are and why we decided to completely change our lives and become full-time RVers.
"I am waiting for you, Vizzini.  You told me to go back to the beginning.  So I have.  This is where I am, and this is where I will stay.  I will not be moved." – Inigo Montoya 
Actually, the beginning for us is when we decided we did not want to stay (in Southern California) and we very much wanted to move–and move around a lot.  We aren't running from the authorities, we just love to travel.  We set up our domicile in Florida and headed for Arizona where we picked up our fifth wheel toy hauler, Fezzik (see our "Brute Squad" page for more info).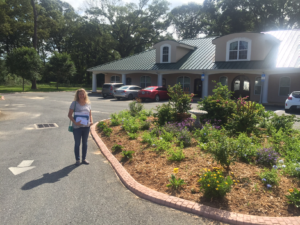 Our new "address" in Florida.  This is the front of the building where our mail goes. MyRVMail.com
Day 1 – June 25, 2016
"I suppose you think you're brave, don't you?" – Vizzini

"Only compared to some." – Buttercup
How brave stupid of us brand new RVers to meet a man in a parking lot in Ehrenberg, AZ in late June (109° F) to take possession of a 20,000 lb trailer that would be our new home with a truck we had just bought that didn't even have a hitch installed!  What could possibly go wrong?
We unloaded our possessions from the back of Inigo (Ford F-450 Dually) and piled them up on a grass strip at the edge of the Flying J parking lot.  Then we (Roger, really) installed our new Andersen Ultimate Gooseneck/Fifth Wheel hitch right then and there (see "Dread Pirate Roberts' Favorite Booty page for more info.)  Then we loaded our belongings into Fezzik, hitched him up to Inigo and four hours after arriving in Ehrenberg, purple-faced from the heat and exertion, we drove off in the general direction of Bend, OR where we would spend a little time with my sister and her family.
"It's not my fault being the biggest and the strongest.  I don't even exercise." – Fezzik
On the way we stayed for a few days at an Escapees Club RV park in Congress, AZ unpacking and organizing.  
We also had our rig "Smart Weighed"–the truck, trailer and each of the 12 wheels weighed individually and the pin weight calculated.  The good news was that we were below every weight rating for both the truck and trailer.  The bad news was that we needed to let go of even more of our "stuff" and forget about installing the combo washer/dryer I had my heart set on if we wanted to eventually be able to load an off-road side-by-side in the garage.
We drove north through Nevada and saw lots of this: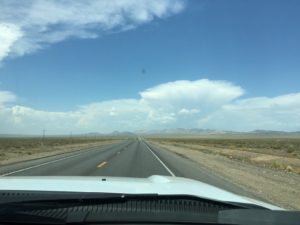 So far, not sold on traveling around seeing the country.
But then we saw some of this: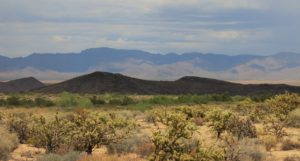 and this: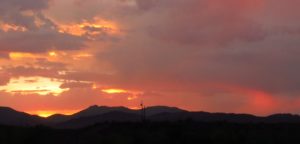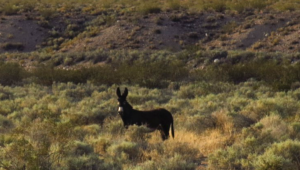 and even some of these:  (wild burro in Beatty, NV)
OK, maybe it's not so bad.
While Roger drives, I review maps, our route, and anything else to assist as navigator.  So while checking Google Maps for what was ahead on the 95 I saw this:
The International what?!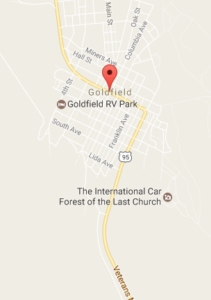 I asked Roger if he wanted to find out what the heck this was all about and he said, "As you wish"  So I found a little RV park in Goldfield where we dropped the fifth wheel and drove Inigo to the International Car Forest of the Last Church.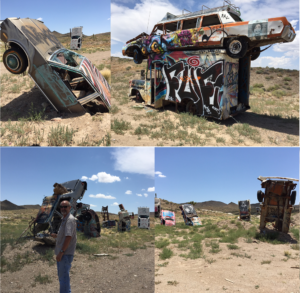 What a quirky, campy town with a quirky, campy art installation! Here are some photos:
My favorite car was this one: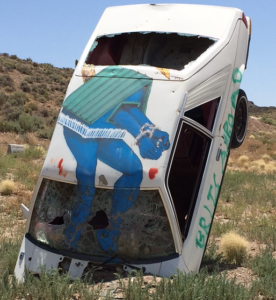 How fitting!  Until the previous week, this is exactly how we felt!
OK, this post is getting really long.  Only one more thing to mention about our travels on the way to Bend.
We boondocked for the first time in Williamson River Forest Service campground in Chiloquin, OR.  It was beautiful and the dogs loved it there but I came away with some vicious mosquito bites.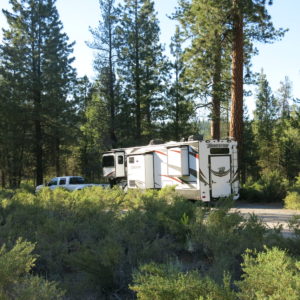 "Isn't that a wonderful beginning?" – The Grandfather (Peter Falk)