"Well, I'm not saying I'd like to build a summer home here, but the trees are actually quite lovely." – Westley
Unlike the Fire Swamp, building a summer home in Bend actually wouldn't be such a bad idea.
On the way to Bend to visit my sister, I searched the web for roadside attractions and found a review for a kitschy little place called the Fun Farm (formerly Funny Farm).  The review said they had fainting goats.  OMG, I HAVE TO SEE THEM!!  If you don't know what fainting goats are, watch this YouTube video.  It's a lot funnier when you learn the goats are not harmed, just their relationship with their human "friends" perhaps.  You know that cartoon with the little angel perched on one shoulder and the little devil on the other? That's how I felt.  I love animals and never wish to be cruel but the little guy with the pitchfork was poking me and whispering, "You need to make a goat faint!"  Sadly, the Fun Farm no longer has fainting goats.  Once I found that out, my disappointment kept me away from the farm so I will not be reviewing it here.  Perhaps next year because it really seems to be one of those weird, quirky places we love to visit.  If you know where I can see fainting goats in the western half of the US, please email me or comment below!  Otherwise I will need to plan a trip to Tennessee.
We arrived at my sister's house just outside of Bend, OR on July 7. We were pleasantly surprised at how lovely it is in and around Bend. I never knew that junipers–those squatty, scruffy, ugly bushes that grow in Southern California–had such marvelous and unearthly tree cousins in Oregon.   My photographic talents–or lack thereof–don't do these spooky and majestic looking trees justice (yes, something can be both spooky and majestic).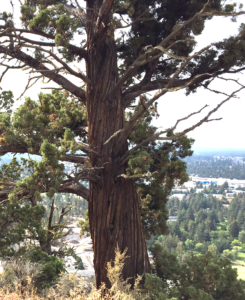 Do you know what is NOT majestic?  Shaved llamas.  I'm no expert on llama shaving but the small herd that lives near my sister's house were shaved in such a way as to make them look particularly un-majestic. In fact, they looked downright goofy.  My husband and I pondered what the collective noun for llamas was.  You know, like a gaggle of geese or a murder of crows?  Google says it is a "herd." That may very well be, but we decided that a group of SHAVED llamas is called a "humiliation of llamas."  If everyone could see these guys, I'm sure the term would catch on.
Anyway, we planned to moochdock (aka driveway surf) at my sister's house for a couple of weeks.  This would give us a chance to spend some time with her, her husband, and my niece and nephews.  My niece, Libbi, played tour guide and took us around to many of the sights in and around Bend including Pilot Butte, Smith Rock, the Wizard Falls Fish Hatchery, and the beautiful turquoise blue waters of the Metolius River (a photo of which you can see in the header on this page).  We were enchanted.  A few days later I talked Libbi into hiking to the top of Smith Rock with me.  The trail to the top is aptly named "Misery Ridge Trail" so I asked her to let me take a picture of her looking miserable.  She's a good sport!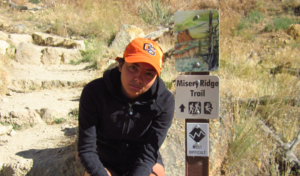 Along the way, we were treated with some amazing views: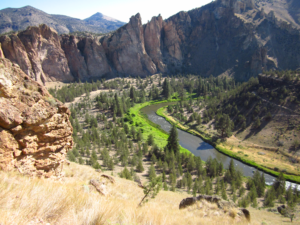 It was exhausting and thrilling and we finally made it to the top.  Here's Libbi at the top looking much more like her usual cheerful, non-miserable self!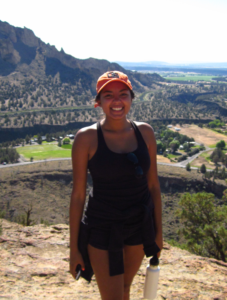 Another day Cally (our 11 yr old Rhodesian Ridgeback) and I hiked to the top of Pilot Butte.  There are two paths you can take; one is asphalt and is shared with the cars going up and the other is a very dusty trail with benches along the way to stop and rest.  We chose the dirt trail. It is only about a mile but it is all uphill.  You are surrounded by junipers and sage all the way up so it looks and smells wonderful.  At the top you are rewarded with a 360° view of the city and the mountains.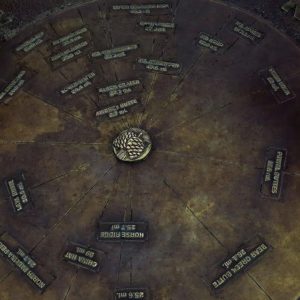 There is a large (3′ – 4′ across) brass medallion in the center of the paved lookout area that indicates the direction and distance to each mountain and geologic feature in the area.  Gorgeous views on a clear day!
I went to Sisters with my two sisters and admired all the amazing quilts at the annual Outdoor Quilt Show.  Sisters is a cute, quaint, tourist town well worth a visit, at least once.
Our nephew, Jordan went with us to Lava River Cave at the  Newberry National Volcanic Monument south of Bend.  He was wonderful company! Tripadvisor reviews had suggested sturdy shoes and a jacket.  Although it was a lovely warm July day, we heeded the advice and were very glad we did!  It was like a refrigerator in the lava tube (42 °F, 5.6 °C).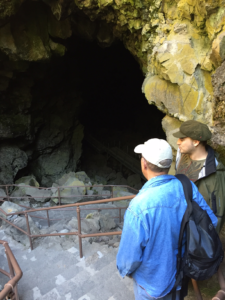 Pictured: Roger and Jordan pause before descending the steps into the cave.  The cave extends almost a mile and it is mostly an easy walk with only one section requiring you to bend or squat (or limbo if you prefer) to pass through.
On the way home from the cave we stopped at Farmer Brown's roadside produce stand on Knott Rd. just east of SE 15th St./Tekampe Rd. where we had the sweetest, most flavorful peaches and plums we have ever tasted.  We ended up going there a few more times before leaving Oregon and everything we got there was so fresh and delicious!  If you are in the area in the summer, you really gotta try the peaches!
We spent an afternoon with Libbi at the Village at Sunriver shopping at some quaint and quirky shops, people watching, and having lunch at the Sunriver Brewing Company–which was excellent.
We had such a wonderful time visiting with my sister and her family and really loved central Oregon!  Did I say we planned to stay a couple of weeks?  Well, a couple of weeks turned into a couple of months before we finally pulled out of their driveway.  My eyes were glistening with tears as we drove away knowing it would be a long time before I would see these loved ones again.  But we were headed out to continue on our adventure and that was pretty exciting!
"Have fun storming the castle!" – Miracle Max