When we started looking for an off-road toy, we were really torn between getting a Polaris RZR 900 Trail and an Arctic Cat Wildcat Trail.  Both are 50" and can therefore go on most ATV trails, not just jeep trails.  I really liked the deeper, larger cargo area on the RZR and we liked the way the RZR sounds.  But the Wildcat has a lower center of gravity and rides more like a go-cart than a golf cart.  If we got the RZR, we would have to compress the suspension or let air out of the tires each time we loaded him, or have a lower profile rollcage installed.  So the Wildcat won out for the simple reason that it fit into Fezzik's garage like a six fingered glove without modification.  Vizzini, you are hired!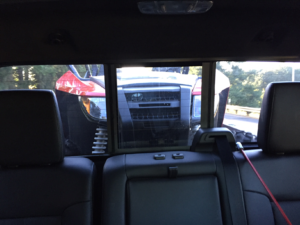 Vizzini followed us "home" from Tualatin, OR (home of Dickie Jo's Burgers where you can get a burger, fries, and ice cream cone–all gluten free) in the back of Inigo.  He fits there, too…inconceivable!
July 30 – We took him to Millican Valley, OR to get used to him and find out what his capabilities were.  We found this tunnel on the trail that went under the highway and would take us to more trails.
Do we dare?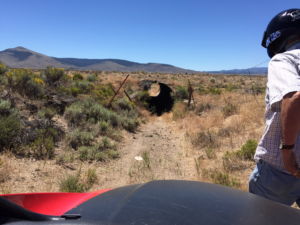 Yes we do!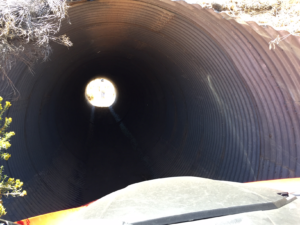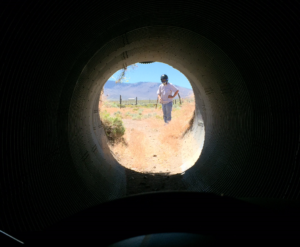 Well, I dared anyway; Roger got out and walked it…ostensibly to make sure all was safe but I think he just didn't want to be part of the wreckage!
I made it through safely, it was really fun going through!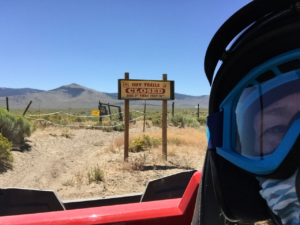 However the joke was on us, we were too early, the trail on the other side of the highway would not be open for 2 more days.
We did go back a couple of weeks later.  Roger drove Vizzini through the tunnel and we rode the trails on the other side of the highway.  We brought our GPS and did some geocaching on the trail too.  We had a blast!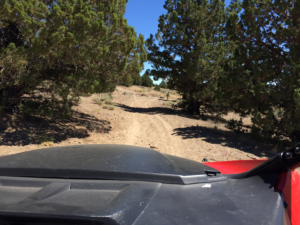 It wasn't until later that we learned we shouldn't have been there at all.  The trail has barriers that allow only 50" vehicles through and of course we fit.  Since we fit and had an Oregon OHV permit we thought that we were good to go.  More extensive reading revealed that Vizzini is a Class IV ATV (not allowed on this trail), not a Class I (which are allowed).  Oops.  So, if you have a motorcycle or Class I ATV, this is a fun, pretty trail.  If you have a side by side, well, you didn't hear about this place from us!
After leaving Oregon we headed down to Richfield, UT for the Rocky Mountain ATV Jamboree.  Roger had to fly off to work so my son, Chris drove up from Mesa, AZ to stay with me for a few days and ride the Paiute Trail.  It was great spending time with him and we had a lot of fun doing the geocache ride.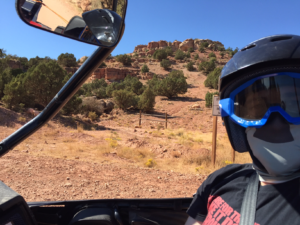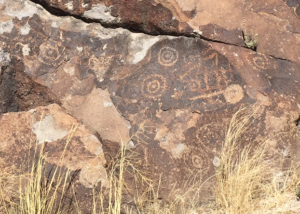 The geocache coordinates given to us by the Jamboree folks led us to these petroglyphs.
The Paiute Trail is amazing and wonderful!  Having been raised in Southern California, I found myself saying, "this place looks just like Disneyland!"  Yes, it embarrasses me to admit that.  Specifically, the rock formations at Big Thunder Mountain Railroad and Cars Land have been faithfully recreated from what is typical in Utah.  But beauty and wonder surrounded us on this trail on a scale to which Disney can't really do justice!
Roger finally came home on the last day of the Jamboree and of course it was rainy and blustery.  But we stayed in Richfield for another couple of days and went out on our own.  Roger took some beautiful photos from the trail, these are my favorites: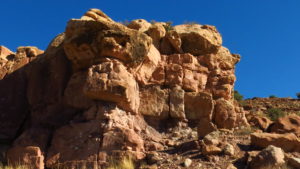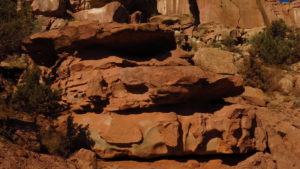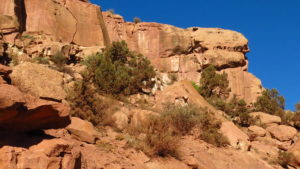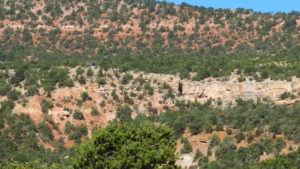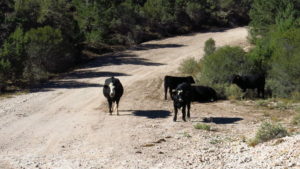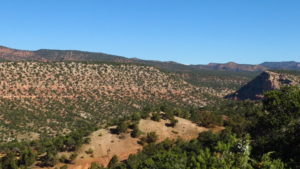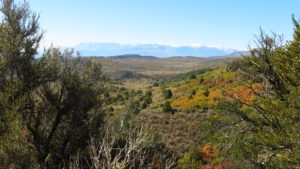 A word about Richfield, UT.  The town itself is not particularly special in any general sense of the word, except for this:  I doubt you will find a more OHV-friendly place anywhere!  Especially during the jamboree, but before and after as well.  Combine that with its easy access to the Paiute and other trails and this is OHV HEAVEN!! So, Richfield, I say to you,
"You are wonderful!"  – Inigo

"Thank you.  I've worked hard to become so."  – The Man in Black.