February found us in Yuma, AZ.  We parked off of American Girl Mine Road and really liked it!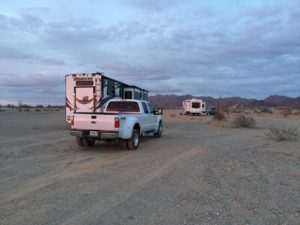 Decent hiking, great weather, nice views, plenty of space and room for the dogs to run around without bothering anyone.  This was our jumping off point to visit Los Algodones, Mexico, a place known for its many dentists, opticians, and pharmacies.  What did we do there?  We visited the dentist, optician and since we didn't need any pharmaceuticals we bought some liquor. Close enough.  We went to Dr. Bernal's practice and we were pleasantly surprised by how clean and modern this dentist office was and how thoroughly my teeth were cleaned.  We will definitely be back next year!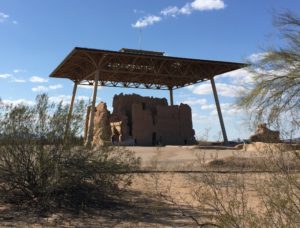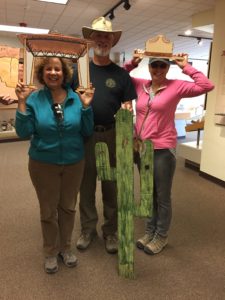 The last part of February and the first part of March was spent just relaxing and hanging out in Florence, AZ.
While Roger worked (my poor Westley!) Mark, Judith, and I visited Casa Grande and played lots of Dominion and Carcasonne (our newest board game addiction).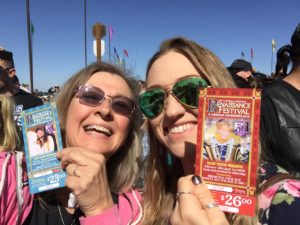 Jessica joined me for a fun day at the AZ Renaissance Festival where we celebrated my first ever Senior Discount!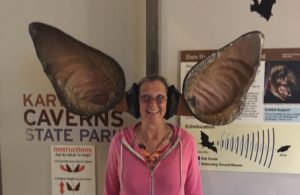 On our way to San Antonio, NM we stopped at Kartchner Caverns. No photography is allowed in the caverns so you will have to make do with a picture of me wearing bat ears.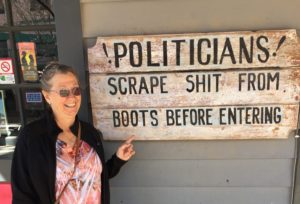 We also visited the fun, quirky, old-timey town of Tombstone, AZ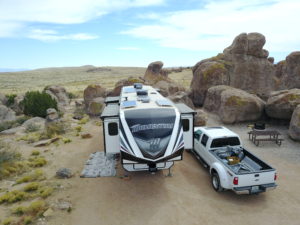 We tucked in for a couple of nights in City of Rocks State Park.  We got a kick out of parking among these huge boulders that looked like something out of the Flintstones.  We also met some new friends, Peter and Nannette while here.  We are looking forward to visiting with them again!
We spent April in San Antonio, NM.  Roger had to work nearly the entire month so I and the rest of the Brute Squad parked ourselves near the Bosque del Apache National Wildlife Refuge where Mark and Judith were volunteering so I could satisfy my new addiction (Carcassonne).  One evening while playing Carcassonne (or was it Dominion? I forget—board game delirium had set in by then) a fellow volunteer at the Bosque told us how much she enjoyed playing Agricola with her family.  Uh oh.  Can you guess what happened next?   Yup.  I bought the game…another new drug to get high on.  Is there a 12-step program for board gamers?  When I wasn't hanging with my peeps playing with our meeps, I was learning to recognize (and do a poor imitation of) the call of the Western Meadowlark.  Don't know what that sounds like?  You can listen to it here: https://www.youtube.com/watch?v=lvAUgFb1cLY.  I'm not much of a birder but I just loved waking up to that sound each morning.  While staying near the Bosque I also learned to recognize turkey vultures in flight and saw Killdeer, Snowy Egret, Grackle, Mourning Doves, Mallards, Black-neck Stilts, Roadrunners, Red-tailed Hawks and Swainson's Hawks.  It seemed like every day brought new birds and new sounds.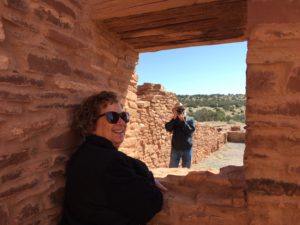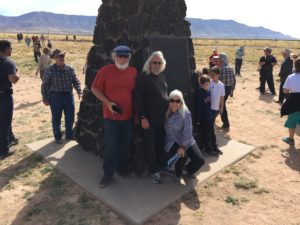 Also in April, our friend Dave McKenna–remember him from my Sept 2017 Grand Tetons post? He's the one in the motorboat—anyway, he saw on RVillage that we were in New Mexico and wrote to let us know that an event was happening in our area that only happens two days a year; the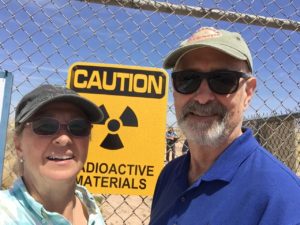 Trinity Site is open to the public.  The Trinity Site is where the very first atomic bomb was detonated.  We met up with him and a couple of his friends there and toured the site.  It was a sobering day.  History…I can only hope we have learned from it.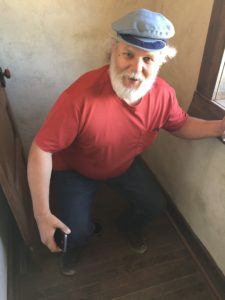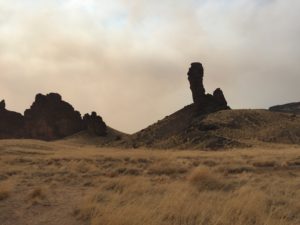 Leaving New Mexico, we stopped at Homolovi State Park.  There were wildfires nearby and visibility for the ruins was nil.  So we drove around a nearby Indian Reservation and saw some amazing rock formations.   We will have to visit there again sometime when conditions are better.
May ushered in a big change and the next phase of this lifestyle; we once again became property owners!  We adored the Kanab, UT area when we visited last year and agreed that there is way too much to see and do in that area for just a brief visit now and again.  So we bought 20 acres in Deer Springs Ranch.  I think we will call this little piece of heaven, "Florin."
"It was a very emotional time for Buttercup" – The Grandfather
Florin, umm, I mean Deer Springs Ranch is located at the western edge of Grand Staircase/Escalante NP and about 4 miles (as the crow flies) from the south end of Bryce Canyon.  Our lot has a view of the pink cliffs or "Pinks" of Bryce (the photo at the top of this page is the view from our property) and backs up to BLM land with a trail right there for us to go exploring with Vizzini.  We will be spending September there having some work done to get it ready for part-time off-grid living.  We will be putting in a driveway with a loop big enough for Fezzik to turn around and two RV parking pads with water and septic.  My head is filled with dreams of our friends and family coming to stay with us to explore this amazing part of the country!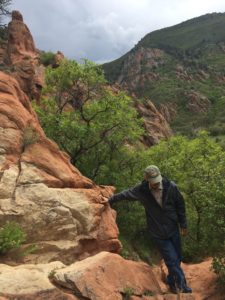 Heading north we visited Red Ledges picnic area (an hour south of Salt Lake City)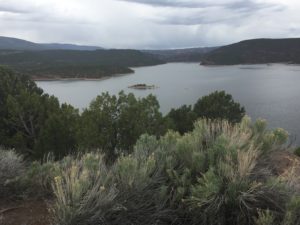 and Flaming Gorge on our way to spend some time with Jim and Brenda in Custer, SD.
I've never been to either of the Dakotas so I'm really looking forward to seeing the state and to hanging out with our dear friends…it should be fun!