Petrified Forest National Park  
I'm a little more adventurous than Roger.  He leans toward the safe, smart and predictable, I lean toward the exciting and new and different.  Rather than being a source of friction, it serves us well in our travels. I research and find things we will enjoying seeing or doing and he keeps me grounded in reality  (no Buttercup, we cannot take Fezzik on the Going-to-the Sun Road).  So when I saw our route from Albuquerque, NM to Apache Junction, AZ had a "shortcut" through the Petrified Forest National Park I was giddy!  Roger, however, was not so enthusiastic.  He wanted me to do a little more research.  So I opened up Google Earth to see if Fezzik would fit all along the route but poor road conditions are not always obvious.  So when we got to the Visitor Center just off Interstate 40, we stopped to ask.  "Oh no", I thought, seeing the very young, fresh-faced park ranger at the counter who could hardly be older than some of the stuff in the back of my freezer; "how would he know if a 41' fifth wheel could safely traverse the narrow road and small turnouts?" Well, I got schooled in ageism, because he knew plenty!  He very confidently circled the areas on the map where we should not go and said we would be fine as long as we stayed out of those turnouts.
We set off—not quite confidently.  Were we scared?  We were petrified!  Gratuitous puns aside, we were delighted to find that Fezzik really had no trouble making his way along the road.
"Everybody MOVE!" – Fezzik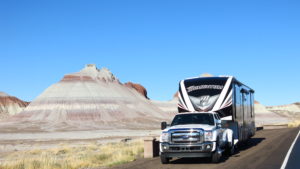 We were able to make many stops for photos and to see the petrified wood up close.  Finding interesting things to see or do during travel days is one of my favorite aspects of this life on the road!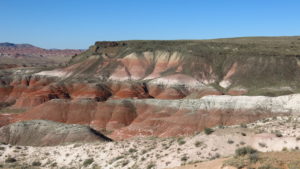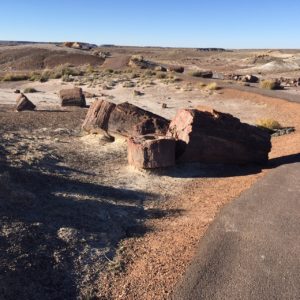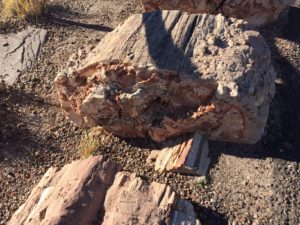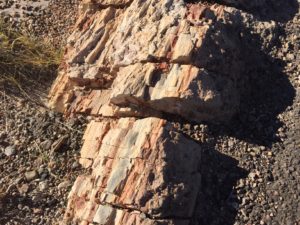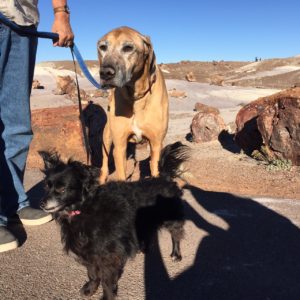 Cally and Pepper enjoyed a walk along the path through the Crystal Forest area of the park.
We blacktop boondocked at the Petrified Forest Gift Shop at the intersection of Petrified Forest Road and Hwy 180.  There are hookups available for a reasonable fee if you arrive during business hours, but there are also free dry camping spaces there and across the road at the Crystal Forest Museum and Gift Shop.
"Fezzik, you did something right." – Inigo
"Don't worry, I won't let it go to my head." – Fezzik
---
Lost Dutchman State Park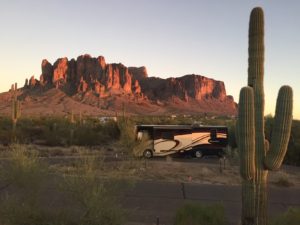 For our RVing friends: if your best view is out the passenger side of your rig I have two words for you: Site 50.  Actually, there are many great sites at this park but we loved being in Site 50.  The spacing at this park is good and there are lots of pull-throughs, some are even big enough for Fezzik and Inigo with room to spare.  Superstition Mountains were perfectly framed by our dining room window.  The sunset shot gold rays onto the jagged rock face each evening making our view inconceivably beautiful!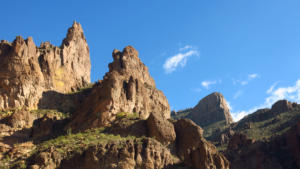 The rangers were very nice and helpful (shout out to Erica…congratulations on your mawwage to your twoo wuv!)  There is great hiking here for all experience levels but be sure to take water!  Except for one windy night the weather was near perfect.
And best of all for us, our kids live in Mesa which is only about a half hour away so we got to spend Thanksgiving with them–for which I am truly grateful!