"There is nothing nearby; not for miles." – Buttercup
We have heard for many years about how beautiful it is in and around Sedona, AZ.  We just had to find out for ourselves.
Our dear friends Mark and Judith shared the location of a boondocking spot near Sedona with us and we couldn't wait to check it out.  We had heard that there were some very accessible spots just off Forest Rd 525 between Sedona and Cottonwood but that the spots with better views were a few miles further along the (rough and bumpy) road.  We unhooked at one of the easily accessible spots and took Inigo as far as we thought Fezzik could go without tipping over or getting stuck in a rut.  Turned out we could get about 3.5 miles in.  That was perfect because just about the time that we were ready to chicken out and turn around we found the most incredible spot with a breathtaking view.  Wow, just wow!
The view from our dining room. Inconceivable!
We hiked up to the top of a hill and took the photo of the Brute Squad featured at the top of the page.  You can see how secluded we are.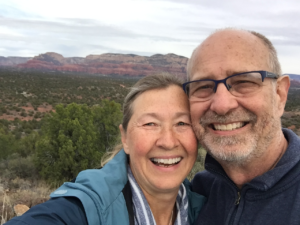 Then we took this selfie.  I'm posting it here because it's a great picture of my sweet Westley…oops, I mean Roger!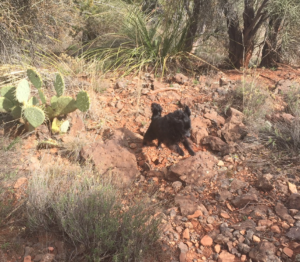 On the way down, I took this shot of Pepper enjoying some off-leash time.  Go, Pepper, go!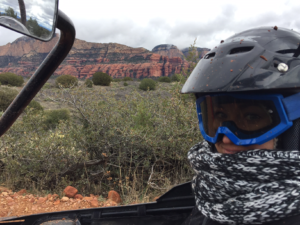 Our daughter, Jessica drove up from Mesa just in time to go riding Vizzini in the rain!
We got red mud EVERYWHERE!!  But we had a great time slipping and sliding along the trails.  We visited the Honanki ruins and found a little lake on the way back.   The next day we drove the truck into Sedona and shopped at the Hummingbird House–an adorable little shop with antiques and unique gifts–and had lunch at Picazzo's.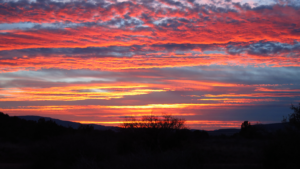 We also were treated to this glorious sunset!
On Monday Jessica had to go but the mud was so slick and deep that we had to use our plastic leveling blocks to make a path in front of her tires and lay our patio mat down for her to drive over.  We needed a new patio mat anyway 😉   It worked!  She got out of there and home safely.  It was a wonderful weekend!!
Roger and I toured the Honanki and Palatki ruins after Jessica went home.  I think Roger took a thousand photos.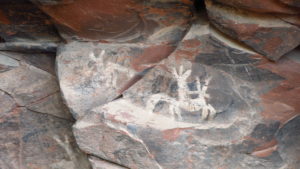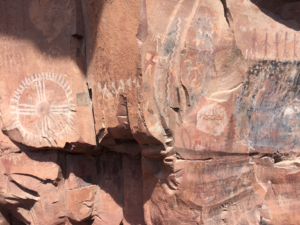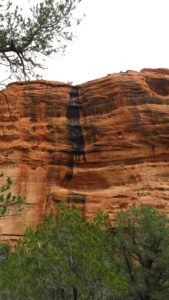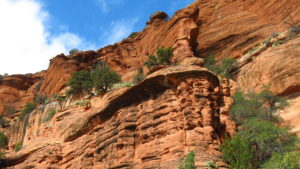 We were amazed by the hoodoos (sandstone columns formed by erosion) with limestone caps.  If limestone deposits form on top of sandstone, erosion will wear away the sandstone first leaving these interesting caps on top of the pillars or columns.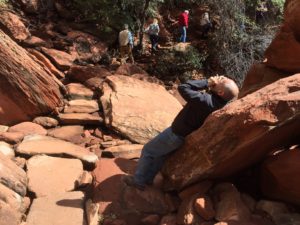 I took at least one picture.
A couple of days later the nights started getting cold—high 20's.  We aren't the "frozen pipe" kind of people so we decided to leave a day or two early and head south.  Fortunately, the mud had turned into mostly dry, hard earth again and we could pull out without getting stuck.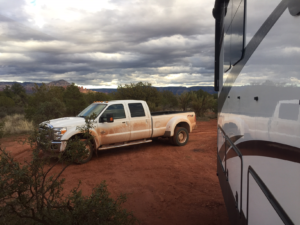 During our pre-departure check, we found that our brake lights and turn signals weren't working on Fezzik.  Uh oh.  We called a Ford service department in Cottonwood and the very nice and patient man told us how to check if it was a problem with the (caution: highly non-technical words ahead) thingy where the big fat cord plugs in to the truck.  It wasn't.  Dang it!  It would be much easier to take the truck in for repairs than the fifth wheel.    So we decided to move the rig along the rough and bumpy FR 525 back toward the road where a mobile tech could get to us to fix it.
As we were approaching the second to the last turnout, I told Roger we should pull in there.  He smiled and said, "As you wish" and turned in.   No, in fact he did not.  Instead of saying, "As you wish" he said, "No, I think there is a better place closer to the highway" and kept driving.  There wasn't.  Well, there WAS a place but we couldn't get into it so guess what…we had to get onto the highway.  At that moment I wanted to shove him down a steep hill!   That's right, we got on the highway with no brake lights and no turn signals.  We belong in jail.  Fortunately, there was an RV park on the corner at the first light where the highway becomes a city street so we only had to use the brakes once and make one turn before we were off the road and home free.  OK, so maybe not jail, but we DEFINITELY deserved a ticket!   So we got a mobile tech out and he patched us up and we headed for Tonop-aaaaaaah!
Since you made it all the way to the end of this post I will reward you with the GPS coordinates for this wonderful, amazing boondocking spot near Sedona.  There are several places to boondock along FR 525, but this one has an unbeatable view and is big enough for really large rigs—3 or 4 of them even!
34°52'05.0″N 111°54'14.2″W  Tip: Go there when it's not raining!