"No more rhymes now, I mean it!" – Vizzini

"Anybody want a peanut?" – Fezzik
Yeah, that quote doesn't really fit here, but it is one of my favorites and I can't imagine a circumstance under which I will be able to use it legitimately.  So there you have it.
We headed south after the Balloon Fiesta and stopped in Socorro, NM where we stayed on an alpaca farm for a couple of days as members of Harvest Hosts.  Alpacas are smaller and cuter than their llama cousins.  If you read my first post, you might remember that I unilaterally decided (based on appearance) that a group of shaved llamas is a humiliation of llamas.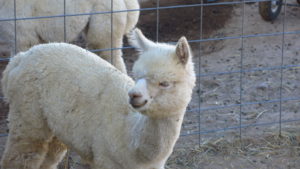 Well, I wanted to declare that a group of alpacas was a "cuddle" of alpacas but the darling, skittish things wouldn't let me get close.  So instead I shall call them a "fluff" of alpacas.  You have my permission to use the term.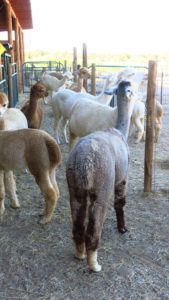 While in Socorro, we stopped in at the Bosque (almost rhymes with nosegay instead of mosque) del Apache National Wildlife Refuge to meet a couple of fellow fulltime RVers that volunteer for the Bosque and whom we had briefly met online through RVillage.com.  They turned out to be a real delight.  After they got off work we played Settlers of Catan and had a great time.  I told them Catan is the gateway drug for the game, Dominion.  They didn't believe me until we met up later near Carlsbad and they got a taste.  After a chili dinner and drinks we played a game and while Judith looked ready for bed, Mark's eyes were wild and glistening and he was begging for more.  OK, one more.  Judith won the second game and she admitted that an addiction was forming.  Don't say I didn't warn you.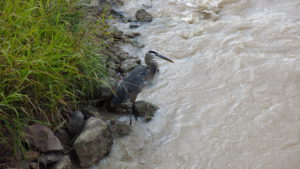 Heading for Carlsbad Caverns the next day, I could hardly contain my excitement.  Carlsbad Caverns has been on my bucket list since I was 8 or 9 years old.  The caverns, the bats…I was thrilled, I was FINALLY going to see it!
We arrived at the SKP Ranch RV Park too late to go see the Caverns on the first day but we did have time to watch the bat flight program.  The ranger told us if we were very quiet and sat still when the bats come out of the cave, that they might fly right out over our heads.  As they began to emerge, a hush fell over the hundred or so spectators.  Even the little kids were quiet.  In the silence, we could hear an occasional slap of wing against wing and a low whooshing sound coming from the mouth of the cave as the air was brushed by thousands of bats making their way to the outside.  For nearly an hour we sat grinning and motionless as they spiraled out of the cave and swooped and dipped near our heads before flying off for dinner. Surreal.  Surreal and…
"Inconceivable!" – Vizzini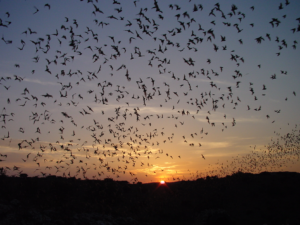 Photography is not allowed during the Bat Flight Program so I've posted a picture from the National Park Service website.
The next day we spent the day hiking into and around in the Caverns.  Before I share my thoughts, let me get this out of the way; as a child I formed my ideas about what the caverns would look like from pictures like these: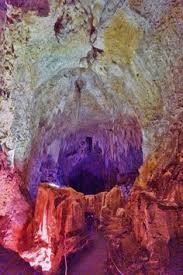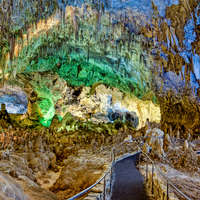 Don't be fooled, the only colors you will see down in the caverns are tan, beige, brown, off-white, and black.  Lots of black–it's dark down there!  I suffered some disappointment over the lack of color for the first few minutes but soon became awestruck—that's the word that kept coming to me, awestruck—by the fascinating stalagmites and stalactites.  Pillars and straws and draperies of stone, thousands of them all around us.  Awestruck.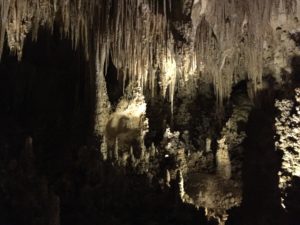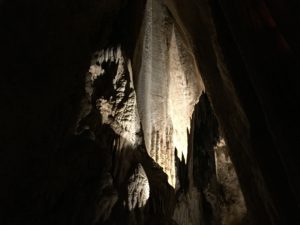 If you go to the Caverns, be sure to take the King's Palace Tour.  The areas with most spectacular formations are now protected by being closed off to the public except during tours.  The story of Jim White (the 16 year old who first explored the caverns) as told by our guide was fascinating.
We spent the next day getting to know a couple, Jim and Brenda who were parked near us in a Momentum 328M.  You know how sometimes you meet someone and it is just really easy to be around them?  Spending time with Jim and Brenda is that way for us.  The following day we joined them for a second helping of the Bat Flight Program and another day the four of us hiked around Sitting Bull Falls.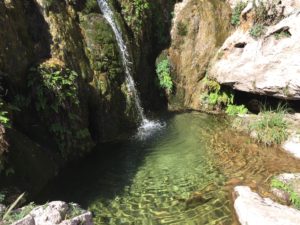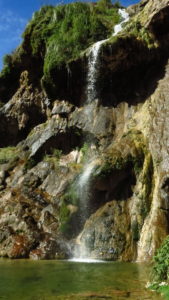 As you can see from the pictures, it is not a particularly remarkable waterfall.  The remarkable thing is that here it is, an oasis in the middle of the desert fed by springs from the canyon above.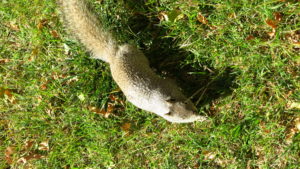 It was a fun hike around some interesting rock formations and we got to see some wildlife up close.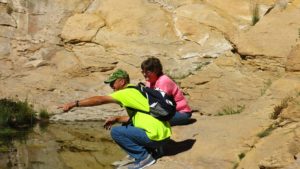 Capping off the week was an off-road adventure with some locals.  We had met Andy–who works at the park–on our first day there.  He told us he had built an off road sandrail type vehicle and was getting it ready to go out on the trails.  He asked if we wanted to join him and of course we said, "yes!"  He spoke with us after a few days and said he had a friend that was familiar with the trails nearby and would be joining us.  It turned out his friend was the man who had done a fantastic job washing and waxing Fezzik earlier in the week, the man whom his assistant called, "the Redneck."  We called him Greg (because that's his name) but "The Redneck" makes for a better blog title and Andy told us Greg calls himself a redneck so I'm pretty sure his feelings won't be hurt.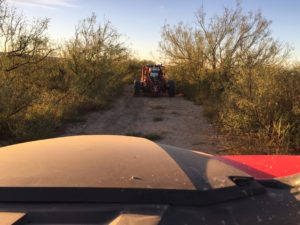 Anyway, we had a great time and nobody got stuck in the mud or tipped over and we made it back before dark.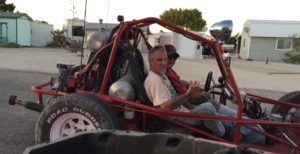 Thank you for a fun evening, Andy and Greg!