If I were referring to my sweet Westley (Roger) as the aforementioned Dread Pirate Roberts, then his favorite booty would obviously be mine.  However, this page is rated G so I will restrict the items discussed herein to ones which are for sale (my booty is not).
We recommend these products based on our own experience with them.  We have not received any compensation for writing these reviews.
THINGS FOR THE BRUTE SQUAD:
C-Head Compost Toilet – A "Head-to-Head" Comparison with Nature's Head.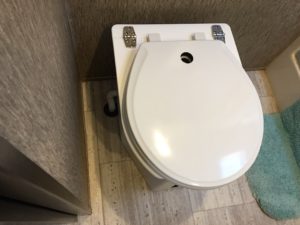 We switched over to a compost toilet in October 2017 and we are delighted with it. You can read a bit more about it by clicking here.  We had used a Nature's Head a few times and liked it very much but in the end (no pun intended) we chose a C-Head Compost Toilet.  Here's why: Nature's Head is a tall unit, Westley's feet rest flat on the floor when he is using it but mine don't.  Our C-Head is the same height as our previous toilet.  Nature's Head is made of molded grey/white plastic that shows urine stains (and other stains if one fails to hit the target).  The stains can be scrubbed out but Westley has better things to do than scrub the toilet every day!  The parts of the C-Head where staining could occur are black.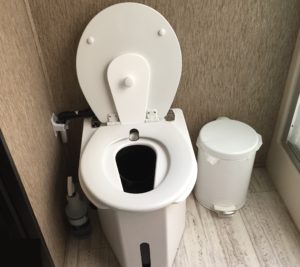 The C-Head provides more contact area for more comfortable sitting than the Nature's Head (especially important when you have a lot of reading to do).   But the main reason we chose the C-Head is that there is an external urine diverter option so we could plumb the urine to the grey tank or black tank–no furtively hauling around a  jug full of pee looking for a place to dump.  We have to empty the solids bucket about once a week (which is about twice as often as the Nature's Head requires) but it really is not a bad task, not stinky, not messy and only takes a couple of minutes to empty and refill with clean material.  We currently use peat moss mixed with some pine shavings.  This  is already too much information for highly modest readers so if you want more detail, e-mail me at cindi@happilyrvafter.com and I will answer any question you may have–no matter how personal, embarrassing, or disgusting.  In the meantime, you can read the instructions we provide our guests who are using a compost toilet for the first time by clicking here.
Relion Lithium Battery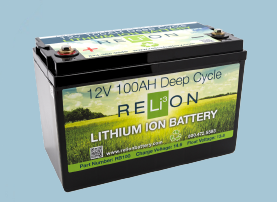 Lithium battery technology is hands-down the best storage solution for solar power in an RV available today.  Until now, it was also the most complicated.  If you have read Technomadia's posts about their pioneering foray into Lithium (and if you haven't, you should),  you will appreciate Relion's Lithium Iron Phosphate drop-in batteries with an internal Battery Management System and overheating protections which makes them worry- and maintenance-free.  Lithium batteries are also an expensive option, but the payback for people who spend most of their time boondocking can be as little as 2 years.  With a 10 year lifespan, that's a bargain!  Read more about our switch here.
Andersen Ultimate Hitch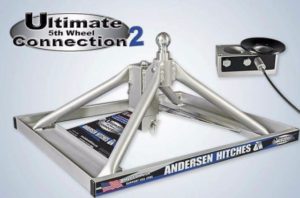 We love our Andersen Ultimate Hitch.  I know that sounds ridiculous, but since it attaches as a gooseneck, the truck bed becomes fully usable when it is removed.  It is super easy to remove, weighing only 35 lb.  We have removed and reinstalled the hitch 6 times in the past 3 months in order to load the truck bed with one thing or another–no problem!  The ride is quite smooth too.   It is a unique design and it is hard to believe that it works.  Click here to watch a video that demonstrates its capabilities.
Garmin RV 760LMT
This GPS unit has yet to let us down.  We entered our trailer size, height, and weight and the GPS navigates us to our destination avoiding low clearance bridges and roads with weight restrictions.  Entering our destination is not quick or straightforward; I've found that to be typical of Garmin GPSs.  But we have been really happy with the function and display.  Below on the left you will see the display, on the right is a photograph I took at that location.  Pretty good, huh?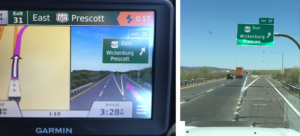 Tire Pressure Monitoring System
We got the EEZ RV T515  tire pressure and temperature monitoring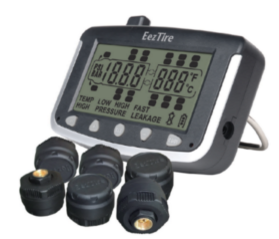 system with flow through sensors.  There are some minor issues we are not completely thrilled with, but we are still on the learning curve with it and overall it is a good system.  How do I know it's good?  Because it has saved our butts already!  We had just pulled into a boondocking spot in Utah when the monitor beeped to let us know the pressure in one of the trailer tires was low.  When we checked the pressure the next day it was WAY down.  Roger put the spare on and when we looked closely at the original tire, it had a small rivet or nail–or something in the nail family–sticking out of the tread.  I don't even want to think about what would have happened if we had headed down the highway like that!!  If you are driving an RV, please get a TPMS system like this.
For more on this item, click on the picture or go to  http://www.eezrvproducts.com/
If you have an RV refrigerator, pay attention please!  One of the leading causes of RV fires is refrigerator damage from boiler overheating.  This can happen while driving or at 3 am while you are sleeping or while you are away and your fur babies are alone.  An ARP control will shut off the refrigerator until the temperature returns to a safe operating level then turn it back on.  We had an ARP Control with blower fans installed in Fezzik and we noticed two benefits:  first, our refrigerator temperature is more stable so we can run it at a lower setting, second, we sleep better at night!  This is another one of those this can save your life products that we highly recommend.
THINGS FOR WHEN YOU ARE NOT OUT STORMING THE CASTLE: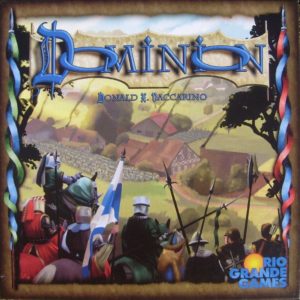 Dominion
This game won't save your life or anything, but it is hands down (no pun intended) the most re-playable game we've found.  The game is almost infinitely varied since each time you play with a different set of action cards.  You have to devise a new strategy with every game based on the action cards selected.  The game becomes even more fun and has more variation when you add an expansion; we especially like Intrigue, Prosperity and the kinder, gentler Hinterlands.  Each game is pretty quick, about a half hour.  When the weather is bad or there are no hiking trails to be found or blazed, we have kept ourselves entertained inside the rig by playing a few rounds of Dominion.
Be careful though, it can be addictive.  Oh, and if you are a Dominion player or want to learn, contact us when we are in your area.  At least one of us (Cindi) is ALWAYS up for a game of Dominion!
The Princess Bride DVD (of course!)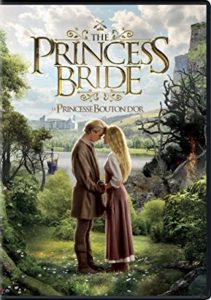 Released in 1987, this movie was not a box office hit.  It wasn't until families started watching movies at home on VHS that it became an oft-quoted, beloved classic.   Many people we talk to did not love it the first time through but it will grow on you faster than you can say, "Inconceivable!"  You could stream this or rent it, but we recommend having a copy of your own.   Better still, have two copies because you will want to loan it out to the uninitiated and may not get it back.  That has happened to us about four times so far!
Oxygenics Fury Handheld Shower
The showerhead that came as standard equipment in Fezzik was OK.  Not great, but not problematic.  I had read so many glowing reviews about the Oxygenics showerheads so we bought the Oxygenics Body Spa.  Roger, I mean Westley liked it fine.  I wanted the old one reinstalled…immediately.  The water does come out with a bit more force, but in a sort of unfocused and annoying way.  Even though our shower is pretty big for an RV, I couldn't get away from the colder "overspray" it generated.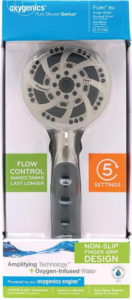 So we read more reviews and shopped some more and bought the Oxygenics Handheld Fury.  Its 5 settings include a massage flow and all the settings feel much more like a "home" shower.  It has a very easy to operate and ergonomic flow control lever for shutting the water flow down to a trickle to facilitate "navy showers."  I love this showerhead.  It was a bit more expensive than the Body Spa but well worth the money.
THINGS THAT ARE NOT THINGS (Clubs, Apps, and Software)
After nearly a year on the road, these are the clubs, apps, and software we are still grateful for and would like to encourage you to try.  Prices listed were correct at the time of posting.

  RVillage  
Have you joined RVillage yet?  If not, DO IT!!   Why?  First, it's free. Second, it's a wonderful app that has made a huge difference in our lives and it will in yours, too.  We have found people online using the app and then we have met them in person and found them to be amazing people!  Now we can stay in touch with those people and keep track of where in the world they are.  The fulltime RV lifestyle can be lonely.  Sometimes we feel a little isolated even when we are in a park.  RVillage solves that problem!  I can go into the app and find out who is staying in the park with us or who is in the local area.  If I like their profile and they seem like people we would like to meet, I can message them and arrange a walk, hike, or happy hour.  This is the app I used to arrange our 25 person happy hour in Quartzsite–and how we met nearly all of our RV friends!  After you make your first friend with RVillage, be a hero and get a Gold Membership (or I'll have to come over there and smack ya) cuz it's the right thing to do!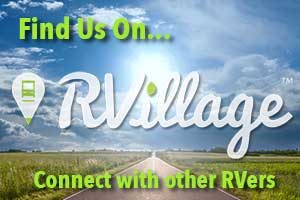 Need a life?                 Go RVing!
Need a social life? Join RVillage!
RV Trip Wizard – I use this every time I plan a trip…which is all the
time.  It makes planning our route SO EASY!!   We have found some amazing parks and stops using this program and it saves me hours of research.  My favorite function is when I put a location on a route, I can see what cities, RV parks, and other points of interest (gas, Costco, Casinos, etc.) are within the distance we want to drive.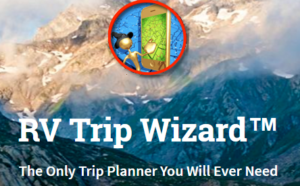 I'm not doing the software justice here.  You can see a demonstration of how it works by visiting their home page.  Click on the image to the right.  ($39/yr)
Harvest Hosts – Their website calls this a "network of wineries, farms and agri-tourism sites that invite
self-contained RVers to visit and stay overnight for free!"  

   We joined and love it!  The wineries we have visited have been very welcoming, have excellent wines, and beautiful grounds.  Maybe we have just been lucky but so far, these have been our favorite places to stay!  We even stayed at an Alpaca farm in New Mexico earlier this year.  I write about it in this post.  ($44/yr)

($39.99/yr)
We are so happy we joined Escapees RV Club!  This organization has provided a wealth of information and assistance in understanding the full-time RV lifestyle and getting our domicile set up (even though we did not use their mail and domicile services).  They are an awesome resource for all things full-time RV!  We attended their boot camp class in February 2017 and learned so much about RV safety and learned so much about the lifestyle!