We stayed in Usery Mountain Recreation Area in Mesa, AZ for the month of April.  We pulled into the campground on April 1 and I thought I was going to cry.  Our site, #6 was surrounded by cholla!!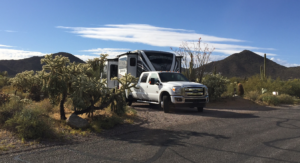 What a fitting April Fool's day after the month we had in Tucson!  Fortunately, this was chainfruit cholla which are a bit less evil than teddy bear cholla because the chainfruit variety of spiky balls of doom can be removed as one piece instead of flying apart and becoming multiple spiky balls of doom.  Anyway, we were very careful to keep the dogs and ourselves away and nobody got hurt.
"You feeling any better?" – The Mother

"A little bit." – The Kid
Soon I was feeling much better.  The Usery Mountain Recreation Area is beautiful.  It has great views, lots of space between sites, an abundance of desert greenery and of course, gorgeous sunsets.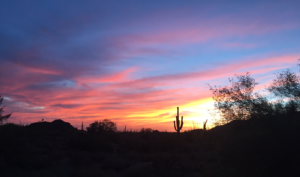 The cacti were in bloom and there was color everywhere: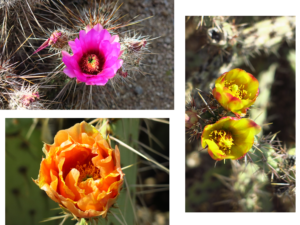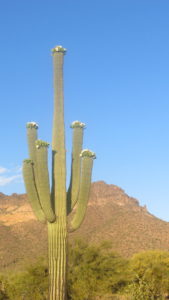 Even the Saguaro were blooming which look a little comical;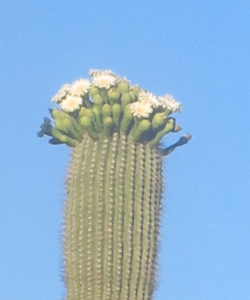 like they are wearing a floral swimcap from the 1950's.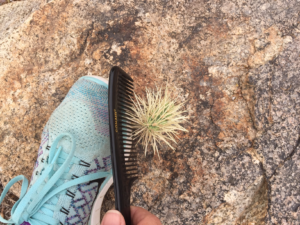 There are several hikes and the rangers are friendly and knowledgeable.  One of the rangers, Ranger B, led a hike during which he showed us a super easy way to remove cholla using a comb!  I'll never hike in southern AZ without one again!
After 2 weeks we moved to the cholla-free site #68 and loved it!  Pepper could chase lizards and butterflies to her heart's content without being attacked.  This site was quite the meeting place for wildlife too.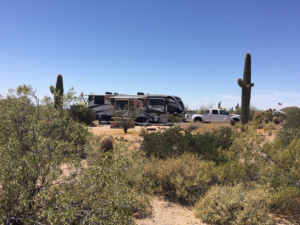 We saw rabbits, quail, and the cutest little antelope squirrels wander through the site daily.  Antelope squirrels have a white stripe along their sides which make them look like pale chipmunks; they are tiny and adorable.  We also had a large coyote stop by for happy hour one evening.  I tried to get a picture but I couldn't grab my phone quickly enough.                      
My mood also lifted thanks to lots of quality time with my son Chris and his girlfriend Angel who live in Mesa.  We played a virtual reality game on his Oculus Rift called "Keep Talking and Nobody Explodes." 

In the game, the person wearing the virtual reality headset is holding a suitcase bomb.  The timer ticks off the seconds as the bomb defuser calls out a description of the wires, buttons, and symbols on the bomb and the team of experts–the other players who have a bomb defusal manual but cannot see the bomb—ask questions to get more information and give instructions on which wires to cut, which buttons to press, and what settings to use.   We had a blast!  Pun intended.  The game can be played on any computer but it's even better with an Oculus Rift!
Pepper learned a new trick.  So now she knows exactly one.  I learned from campingwithdogs.com how to teach her to jump up on a rock or other object and "pose."   I can use it to steer her away from danger (like cholla) while out hiking and she loves doing it…mostly because she gets a treat each time she does it correctly.  Here's her best effort: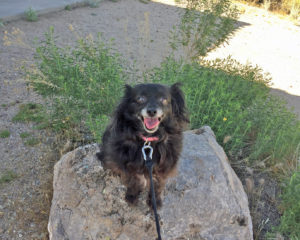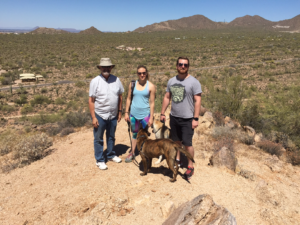 On our last day in Mesa, my daughter Jessica, her husband Mike, and fur babies Cadence and Natalia joined us for a hike up Vista Trail.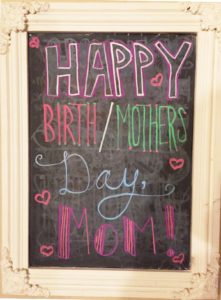 That evening, the family gathered at Jessica's house to celebrate Mother's Day and my birthday a few weeks early since we were leaving Mesa the next day.  What a wonderful and fun time we had!  We've got terrific, loving kids and boy, are we going to miss them!  But the Grand Canyon is calling and it's time to get back on the road.
 "We'll reach the Cliffs by dawn." – Vizzini