"True Love is the greatest thing in the world, except for a nice MLT— mutton, lettuce and tomato sandwich, when the mutton is nice and lean, and the tomato is ripe.  They're so perky. I love that."  – Miracle Max
It's not easy to find nice lean mutton, lettuce, and tomato sandwiches on the road; especially gluten free ones.  So I'm sharing our favorite places to eat in each area we visit.  We visit many restaurants and bakeries but you will only read here about the most special, never fail, storybook-worthy and "safe" places we have found.  Warning: lots of exclamation marks ahead!  Dedicated GF facilities are specified; please visit them and support these businesses that are making life better for celiacs and others with gluten sensitivity.
---
Arizona
Jewel's Bakery + Café – http://www.jewelsgfcafe.com A dedicated GF facility!
One location in Phoenix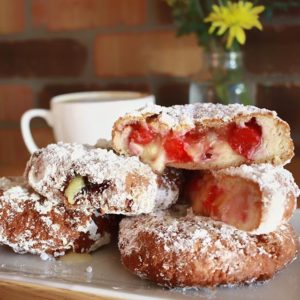 I don't even know where to start on this review, this place is amazing!  The baked goods in the case here are beautiful and delicious and FRESH!  Gooey and fluffy cinnamon rolls to die for, pies, cookies, muffins, scones, cupcakes, donuts; all of them superb.  But wait, there's more…this is a café with a wonderful menu and friendly service as well.  Omelets, quiche, chicken and waffles, biscuits and gravy and mouth-watering fried potatoes…and that's just for breakfast!  I see on their website they also now offer baked items online.  We haven't been in Arizona since they opened for dinner, but I'm betting we won't be disappointed and we can't wait to get back in town and try it.
Picazzo's Organic Italian Kitchen – http://www.picazzos.com/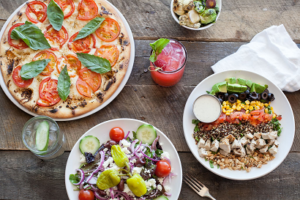 Locations in Phoenix, Scottsdale, Tempe, Flagstaff, and Sedona
This delightful restaurant is almost a dedicated GF facility.  But don't let that concern you, all of their menu items are gluten free except 2 of their pizza crusts and they are exceptionally careful to prevent cross contamination. This is good news for "mixed" families or groups—some people won't even TRY gluten free pizza—but trust me, whether you get the GF pizza or the regular, you won't be turning up your nose!  There is more than just pizza at this Italian restaurant; my favorite menu item is the hot (as in very warm, not as in spicy) artichoke/spinach dip with flatbread and veggies, my daughter's favorite is the baked wings.  And don't miss their "Healthy Hour" with 50% off appetizers from 3 to 6 pm every day!
Tucson has not one but TWO dedicated gluten free cafes!  And one of them is named, "Dedicated."  That's dedication!
Dedicated
I actually cried when I saw that this cafe had fresh cream puffs dipped in dark chocolate.  I hadn't had a real cream puff in 13 years!  It was as good as I remembered.  I ordered "The Tucson" sandwich; blackened turkey, chipotle gouda, tomato, and sriracha mayo.  Spicy goodness!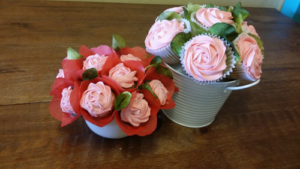 But I couldn't wait to stuff the cream puff in my mouth and before I could snap a photo it was gone.  So here, enjoy this picture from their website of some adorable cupcake roses.
The other GF cafe we tried was Gourmet Girls.  Again, I got to have a treat I hadn't had in 13 years; this time it was fish & chips.  Real, deep fried fish and chips with a delicious tartar sauce.  I didn't cry this time.  But I sure did enjoy it.  Oh, and Roger got the most scrumptious lemon coconut cupcake.  Gluten free dining turned out to be one of the best things about our month in Tucson!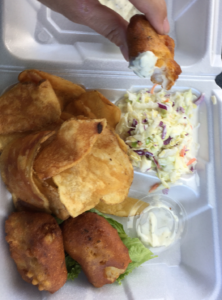 Yummy deep fried fish and made-in-house chips from Gourmet Girls.  We had to get it to go because the pups were in the truck and it was 90 degrees out.  We didn't share; Cally hasn't forgiven me yet.
---
California
Wahoo's Fish Tacos – www.wahoos.com

Several locations in California and Colorado.  Also in Texas, Nevada, Hawaii, Pennsylvania, and Japan.
Not a dedicated facility, they don't even advertise having a GF menu, but I have had their grilled fish tacos, carnitas tacos, chicken tacos, rice, and both kinds of beans and not even once have I had a reaction (and I am very, very sensitive).  My favorite thing on the menu: Grilled fish taco with citrus slaw.  UPDATE:  Wahoo's now has a "Paleo Bowl" on the menu.  Pick 2 GF meats and you are on your way to GF, low carb citrus slaw heaven.  If you don't like bell peppers (like me) just ask for it without.
---
Oregon
AK's Tea Room – https://www.facebook.com/AksTeaRoom/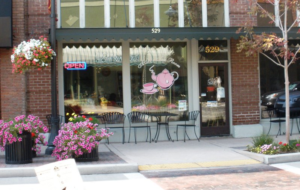 Redmond, OR
At some point during your meal you will think you have been teleported to England for High Tea!  Karen—the real (British) deal—will prepare GF scones for you if you call a day or more ahead.  And I am not just talking about scones, I am talking about melt in your mouth fluffy lavender (or lemon or blueberry) morsels from heaven!  The clotted cream and lemon curd (two things that sound awful but are really lovely and delicious) are literally and figuratively the icing on the cake!  If you forget to call ahead, you will still be able to enjoy a surprising array of delicious GF treats because (shhhh, don't tell those non-GF folks what they are eating) Karen makes several of her amazing baked items without gluten.  I kept asking, "Really?  Are you sure this is gluten free?" I can't give you a review of the lunch menu because I couldn't NOT order the high tea every time!  Ask to speak with Karen if she is available because while her employees are very sweet and seem to understand the needs of us GF customers, Karen can give you the whole scoop about how cross contamination is prevented in the kitchen in the most lovely British accent…and that alone is worth the visit!
Here is a picture of her with my nephew, Jordan: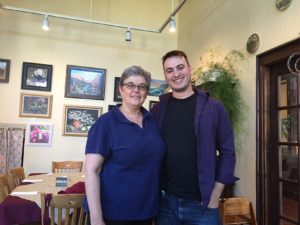 This one captures her lovely spirit: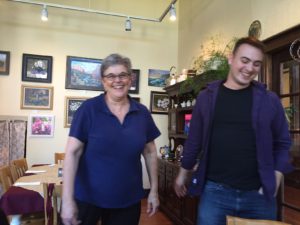 ---
Utah
Sweet Cake Bake Shop – http://www.sweetcakebakeshop.com/ – A dedicated GF facility!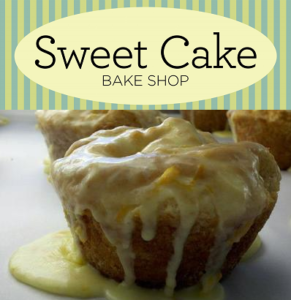 Salt Lake City, Kaysville, and coming soon to St. George
THE BEST GF BAKERY we have found! Go ahead, order anything, it doesn't matter because it is all incredibly delicious and you will forget that it doesn't have gluten!  If you are really lucky, they will have lemon bars in the case; but if not, don't despair just close your eyes and pick.  I kid you not, EVERYTHING is great!
---
South Dakota
Desperado's in Hill City
Not a dedicated facility, but I had an amazing chicken and mushroom sandwich on a crazy-delicious GF brioche.  And for dessert (drum roll please) GF Bread Pudding!!!