"Get some rest — if you haven't got your health, you haven't got anything." – Count Rugen
This was our plan for Quartzsite.  There is nothing to do there so we figured we would get lots of rest.
We had driven through Quartzsite many times on our way from Southern California to visit the kids in Mesa, AZ–isn't it funny how people still call their fully formed, independent and self-sufficient offspring, "kids"?  We had even stopped there once or twice and were absolutely unimpressed.  So when we decided to "winter" in Quartzsite because of the extreme affordability and our deep passion for not freezing to death, I was afraid I was going to be bored out of my mind.  Instead, we found LOTS of things to do and see, and we met many people with whom to see and do them!   In fact, I kept trying to squeeze out some time for a little boredom and I never quite managed it.
We pulled into La Posa South LTVA (Long Term Visitor Area on BLM land) on December 31.  We found our friends, Jim and Brenda (remember them from our New Mexico post?) holding a spot for us near the main road through the LTVA.  How good to see them again!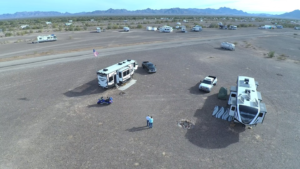 Once we got settled in we went into town to find some firewood and some provisions.  That was the last time things were boring in Quartzsite.
In our first week there we:
Hosted Tamale and Margarita Night with Jim and Brenda.  Jim & Barb Nelson and Brian & Sue Boone attended.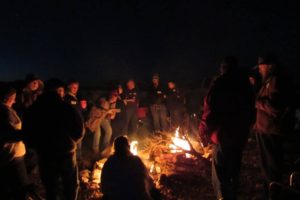 Hosted Happy Hour for RVillagers in Quartzsite–we made more than 20 new friends that night!
Jim drove us to Parker and Lake Havasu and we saw the London Bridge.
We rode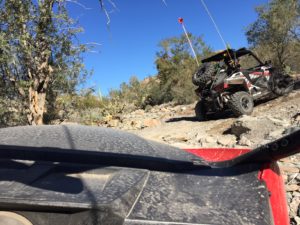 Vizzini up "Hogback" ridge with new friends Guy and Sue…
"We'll never survive!" – Buttercup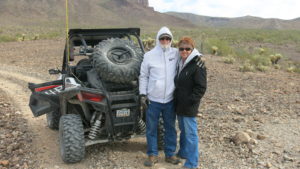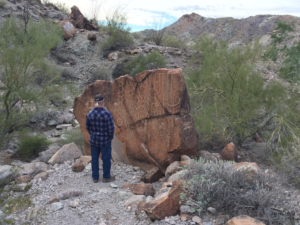 This is Guy checking out the petroglyphs at Dripping Springs.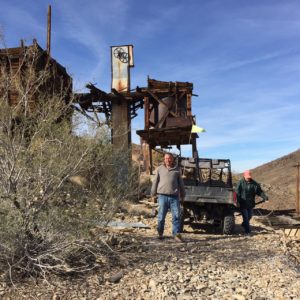 Then we went on a tour of local mines with Jim & Barb and Steve & Dianne Colibaba.  Including this one: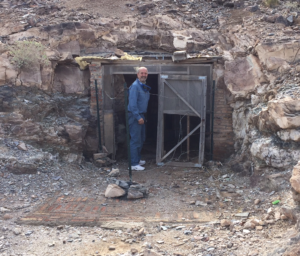 …and the Yum-Yum mine–which I called the fox corpse mine for reasons which will become obvious…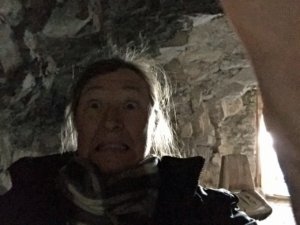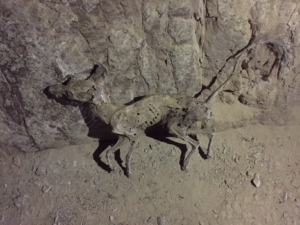 Above the Yum-Yum Mine I found the Mount Rushmore of Groot.
Along the way there were these weird abandoned cabins…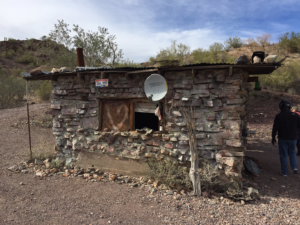 that had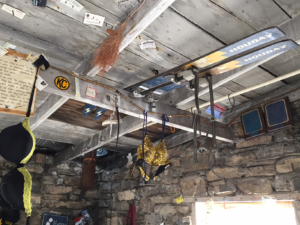 weird stuff in them.  Doesn't everyone keep their skis and glittery lingerie on the ceiling?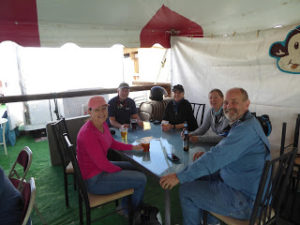 After the ride, we quenched our thirst at a local watering hole, Beer Belly's Adult Day Care…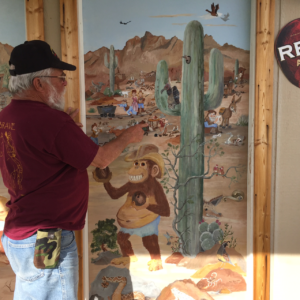 …where I received a tour of the bathroom door art from a local.  After 5 minutes or so of explaining the puzzling pictograms e.g. a skillet next to a "T" next to a garden hose = panty hose = women's room, while I danced and wriggled in desperate need of the facilities. Finally he told me the easiest way to tell which door was which, was to look at the big monkey on each door, "one of them has nuts" he deadpanned.  I thanked him and chose the one without.
The art inside the bathroom was interesting too.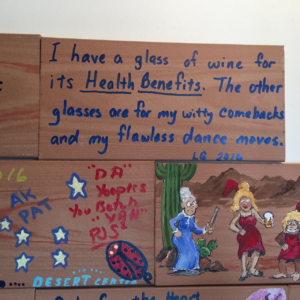 I took a picture of one of my favorites:
Hmmm, it seemed funnier after a couple of hard ciders.
Nothing to do in Quartzsite?  That was just the first week!
During the rest of January we rode Vizzini with even more friends,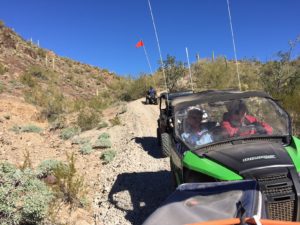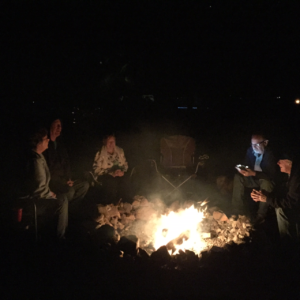 enjoyed many Happy Hours, deepened friendships by the campfire,
marveled at the gorgeous sunsets,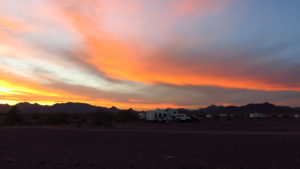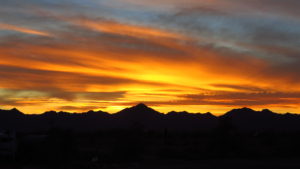 attended the Grand Design Owners' Rally,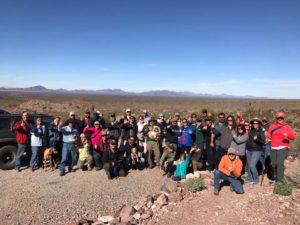 hiked,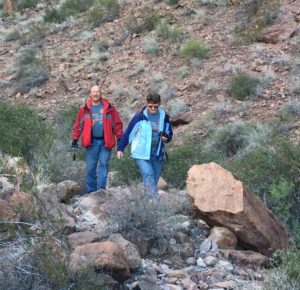 attended seminars, shopped, and played Ladderball.
We can tell Cally and Pepper are really enjoying this new lifestyle; Cally (normally timid and aloof) has become friendly—going around to each person by the campfire to see if they have a treat or a head scratch for her—and Pepper has begun to stay closer to us on walks and shows less of a tendency to wander when off leash.  Those are huge changes for both of them!
Last, but certainly not least, we got a Lithium battery!!
We have been planning to buy lithium batteries as soon as our original batteries came to the end of their useful life.  Well that time came much sooner than we thought.  Two rookie errors led to the early demise of our lead acid batteries.
Rookie Mistake 1:  While boondocking in Richfield, UT, we noticed the emergency breakaway cord for the trailer brakes  was damaged.  We took the cord and the pin out until we could find a replacement.  I vaguely remember wondering if that would be a problem.  For the next several days the batteries drained way too low each night while the local RV repair folks tried to find the problem.
"I've just sucked one year of your life away. I might one day go as high as five, but I really don't know what that would do to you."  – Count Rugen
Rookie Mistake 2:  We went shopping and left the water heater on electric…without being on shore power.  Here's a tip for you, don't do that.  After that, the batteries would charge all day on solar but  wouldn't hold the charge so we needed to run the generator a couple of hours each evening just to keep the refrigerator (on propane) running through the night.  Yes, lithium batteries are much more expensive, but we love to boondock and at the rate we were using the generator the new battery would pay for itself in 2-3 years.  So we made an appointment at Discount Solar in Quartzsite for installation of a 300 amp hour Relion brand Lithium battery and a Trimetric monitor.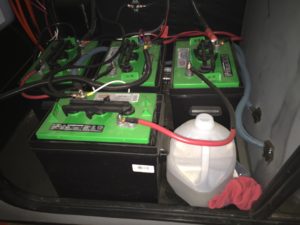 This is a picture of  our lead-acid batteries, what a mess!  Plus the setup you see weighed about 250 lb.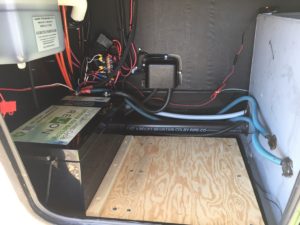 This is how it looks now.  That one lithium battery weighs 93 lb. Discount Solar did a great job on the installation.  Look at all that available storage!  And we love how well the battery is performing!