I had seen the photos, I had heard descriptions, but I was completely unprepared for the beauty, grandeur and vastness of the canyon.  It was difficult for me to wrap my mind around it all.  Neither words nor pictures can truly capture the sense of wonder I felt while visiting the Grand Canyon but that won't stop me from trying.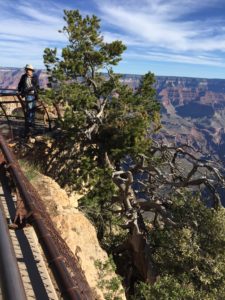 On the first day we walked the South Rim trail to Mather Point.  On the way, Roger and I stood at the rail at the edge of the steep drop-off staring out at the canyon with our mouths agape, Pepper spied a squirrel and bolted for the railing.  She had wriggled out of her collar a couple of times in the past and I pictured her spinning around, pulling out of it and falling to her death.  My horror was immediate and luckily I was quick enough to catch her by the back legs before she got completely under the rail. I felt like Fezzik snatching Buttercup from the jaws of the shrieking eels just in time! Whew!
"I wasn't nervous.  Well, maybe I was a little bit concerned. But that's not the same thing." – The Kid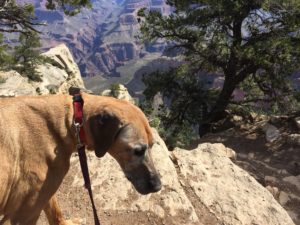 I fashioned a harness out of her retractable leash but she nearly wriggled out of that when a lizard crossed our path a few minutes later.  We decided that until we could find a harness, Pepper would have to enjoy the views from the safety of our arms.  That got old fast so after walking a half mile or so we took the dogs home and went shopping for a suitable harness.  Tip: If you need anything while visiting the Grand Canyon, bring it with you.  Unless you "need" a postcard, bumper sticker, T-shirt, or ViewMaster pickings are very slim for about 80 miles.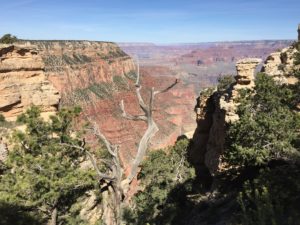 The next day we hiked about a mile down into the Canyon along the Kaibab South Trail to Ooh-Aah Point.  Yes, it's really called Ooh-Aah Point.  Hiking down was a watch-your-step affair and hiking back up was even tougher but we made it just fine with a number of stops to catch our breath.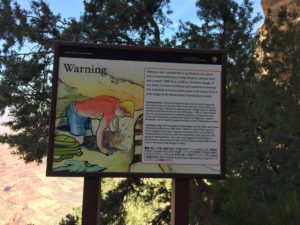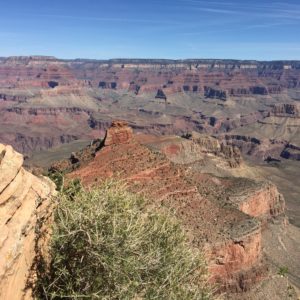 The steep climb and altitude (about 7,000 ft) made the single mile seem like five.  Were the views worth it?  Absolutely! And as an added bonus, there was a corral of mules near the trail head and we got to pet and snuggle them while waiting for the bus.
We spent our last day riding the shuttle bus to each of the stops along the South Rim.  The views were different and captivating at each stop.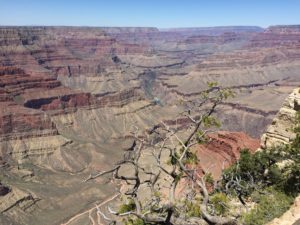 Fun Fact:
Visitors to the Grand Canyon spend an average of 17 minutes viewing the canyon.  (Source)
Wait, what?!  We couldn't tear ourselves away!  I guess that's one of the best things about semi-retirement and this lifestyle; when we find something we love, we can dawdle…unless we have something else planned, which we did.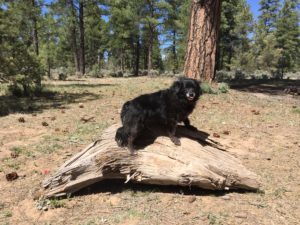 So as much as I loved our boondocking spot and could have stayed there another week, there were things we wanted to see and do in Kanab and the "semi" part of our retirement was impinging on our dawdling.  Time to move on.